Richard E. Fleming, Jr, M.D.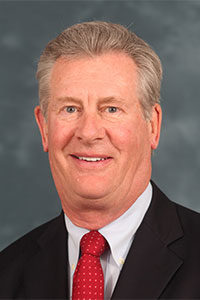 Dr. Fleming, upon completion of his secondary education at Philips Academy, Andover, Massachusetts, attended Princeton University, graduating with a degree in Biochemistry. He received his medical degree from Columbia University College of Physicians and Surgeons in 1972. His surgical internship and residencies were completed at the Roosevelt Hospital in New York and his orthopaedic residency at the New York Orthopaedic Hospital of the Columbia Presbyterian Medical Center. He served as an orthopaedic surgeon at the Naval Regional Medical Center while on active duty in Charleston, South Carolina.
Dr. Fleming has been appointed to a number of instructor and staff positions, including the Department of Orthopaedic Surgery at New York Orthopaedic Hospital, Princeton University Health Sciences, as well as a consultant in orthopaedics at The College of New Jersey and The Lawrenceville School.
Dr. Fleming has published several articles for orthopaedic and sports medicine journals and is a participating member in numerous professional organizations, locally and nationally. These include the the American Orthopaedic Society of Sports Medicine, The American Academy of Orthopaedic Surgeons, the New Jersey Orthopaedic Society, and the Arthroscopy Association of North America. He is also a founder and Director of the Sports Medicine Association of New Jersey and Sports Medicine Clinic of Princeton. Dr. Fleming is also an accomplished computer program designer and has served as a medical consultant to Hewlett Packard for their computer support programs and to SwissRay digital imaging systems.
Dr. Fleming has dedicated his entire professional career to developing excellence in Orthopaedics and Sports Medicine at Princeton Orthopaedic Associates. Starting with his practice here in 1979, he has broadened an interest in shoulder and knee reconstruction. Experience with the father of modern shoulder surgery, Dr. Charles S. Neer II, has supported his professional commitment to improving the art of care of patients with simple and complex problems involving the shoulder. The ability to manage these problems arthroscopically is his current focus.
Testimonial

"Thank you! Dr. Fleming, Thank you! My cruise was fabulous due to you helping me with my knee. I walked the "big ship" from end to end without pain…." read more