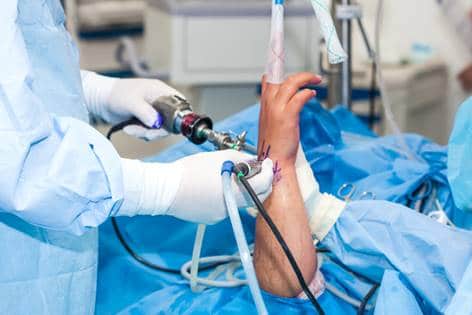 Many patients are surprised when I recommend arthroscopic wrist surgery as a treatment for their chronic wrist pain or acute injury. Even patients who have previously had arthroscopic procedures on their shoulder or knee are not aware that wrist arthroscopy can be performed. Surgical arthroscopy or a "wrist scope" has been safely performed since the 1970's. Like many orthopedic surgeries, advances in technology for medical instruments and digital imaging have made wrist arthroscopy a much simpler and safer procedure to treat a wide range of wrist conditions.


Wrist arthroscopy is an outpatient surgical procedure performed using regional anesthesia with sedation. Most procedures can be performed in 45 to 90 minutes. Recovery time from a "wrist scope" is variable depending upon the condition being addressed. However, since the surgery is performed through three or four small incisions (only a few millimeters) recovery time is much less than traditional "open" surgery with much less scaring, swelling and pain. Currently there are a wide range of traumatic and degenerative conditions for which wrist arthroscopy is indicated. However, like all surgical procedures a "wrist scope" is performed only when all non-operative treatments have failed to successfully alleviate a patient's symptoms. Non-operative treatments include: bracing; medications (oral and topical); physical/occupational therapy and cortisone injections. Wrist arthroscopy is only performed after a thorough physical exam to diagnose the condition has been correlated with imaging tests such as x-ray; ultrasound; CT scan and MRI.

One of the most common reasons to perform a "wrist scope" is because of chronic ulnar sided (small finger sided) wrist pain unresponsive to conservative treatment. A small fibrous structure called the Triangular Fibrocartilage Complex or "TFCC" is a soft tissue fibrous structure that supports loading the wrist and provides rotational stability to this complex joint. Injuries to the TFCC can occur after a fall or twisting injury or secondary to wrist fracture. Degenerative TFCC tears can also develop in patients after repetitive physical activity. This repetitious degenerative tearing can develop after years of twisting the wrist at work, in the gym, on the golf links or the tennis court.


To determine the source of your wrist pain, clinking or catching please call to make an appointment with Princeton Orthopaedic Associates. As a board certified orthopaedic surgeon who has completed a fellowship in Hand / Upper Extremity Surgery, I look forward to meeting patients and diagnosing and treating their wrist pain so that they can return to their activities and sports without pain.