Dr. Todd McGrath joins POA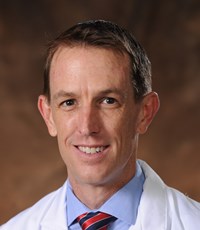 We are pleased to announce the addition of Todd M. McGrath, MD, as a non-operative sports medicine specialist joining Princeton Orthopaedic Associates. Dr. McGrath graduated from New Mexico State University and received his medical degree from Texas Tech University School of Medicine.   He completed his residency in emergency medicine at Drexel University College of Medicine.  After practicing emergency medicine, he completed a fellowship in sports medicine at Cone Health System in Greensboro, NC, where he obtained advanced training in non-operative sports medicine, musculoskeletal ultrasound and care of the runner and endurance athlete.   He is a diplomat of the American Board of Emergency Medicine, holds a Certificate of Added Qualification in Sports Medicine (CAQSM) and is a member of the American Medical Society for Sports Medicine.
Dr. McGrath brings the unique skill set of musculoskeletal ultrasound to POA.  This includes joint and soft tissue injections, procedures to improve chronic tendinopathy and platelet rich plasma therapy (PRP).  PRP is a method of using the patient's own plasma to help stimulate healing and improve pain in chronic muscle and tendon injuries  .
Dr. McGrath has served as team physician at the high school, college and professional level, was the medical director of the Trans-Sylvania MTB Epic stage race and the Pennsylvania Interscholastic Cycling League.   He is currently the team physician for New Hope Solebury High School and a team physician for US Soccer.  He has traveled as the team physician with US Soccer's national teams and been the venue medical director for international soccer events in Philadelphia, including the Copa America Tournament.
Dr. McGrath has a strong personal and professional interest in the endurance athlete.  He has competed on the national and international level as a triathlete, was a multiple time USA Triathlon All-American, competed at the Ironman Triathlon World Championships and represented the United States at the ITU Long Course Triathlon World Championships.    His experiences, in addition to his professional training, give him a unique understanding of the endurance athlete and their medical care.
Tagged with: McGrath, POA, PRP, ultrasound
Posted in: news