Hari P. Bezwada, M.D.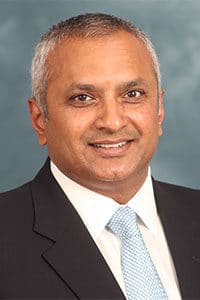 Dr. Bezwada specializes in hip and knee replacements, arthroscopic surgery of the hip and knee, as well as fracture care of the lower extremity.
Dr. Bezwada specializes in the treatment of patients with hip and knee disorders as well as general orthopaedic ailments. He has advanced training in both the arthroscopic and open treatments of hip and knee problems. He has special expertise in the latest approaches to hip and knee surgery including the anterior approach to hip replacement. Dr. Bezwada lectures extensively both locally and nationally and is widely published in various journals including: The Journal of Bone and Joint Surgery, Journal of the American Academy of Orthopaedic Surgeons, Clinical Orthopaedics and Related Research, and the Journal of Arthroplasty. He has authored several textbooks and is extensively involved in both clinical and basic science research.
Testimonial

"My first hip replacement surgery was done in Philadelphia in 2005. When it was time to have my other hip replaced, I chose Dr. Bezwada & Capital Health in Hopewell, NJ. Dr. Bezwada is one of the few doctors that performs this surgery through the front instead of the back…" read more
Areas of expertise
Arthritis of the hip and knee
Revision hip and knee arthoplasty
Complex primary hip and knee replacement
Anterior approach to hip replacement
Sports injuries of the hip and knee
Fractures of the lower extremity
Awards and Honors
John N. Insall Traveling Fellowship, The Knee Society, October 2005
Ranawat Award, EOA, October 2004
Lloyd W. Taylor Award, Western Orthopaedic Association, October 2003
Drexel Orthopaedics Resident Research Day, First Place, DUCOM, May 2003
Residents' Award Competition, Second Place, Pennsylvania Orthopaedic Society, April 2003
Orthopaedics Overseas-OREF Traveling Fellowship, Lima, Peru, January 2003
Ranawat Award, Eastern Orthopaedic Association, October 2002
Joseph H. Boyes Award, American Society for Surgery of the Hand, October 2002
Smith & Nephew Resident Award, Residents Paper Competition, August 2002
Total Knee Forum, Second Place Resident's Award, December 2000
NIH Public Health Research Traineeship Award, Albany Medical College, 1991
Education
M.D., Albany Medical College, Albany, NY
B.S., Union College, Schenectady, NY
Residency/Fellowships
Drexel University College of Medicine, Philadelphia, PA
Orthopaedic Surgery,1999-2003
MCP & Hahnemann University, Philadelphia, PA
General Surgery, 1996-1997
Columbia-Presbyterian Medical Center, New York, NY
Internal Medicine, 1993-1996
Fellowships
The Center for Joint Preservation and Reconstruction, Rubin Institute for Advanced Orthopaedics, Sinai Hospital of Baltimore,
John Hopkins University, Baltimore, MD
Joint Reconstruction Fellow, 2003-2004
The Orthopaedic Hospital at Allegheny University Hospitals-Graduate
Booth, Bartolozzi, Balderston Orthopaedics at Pennsylvania Hospital,
Penn Orthopaedics, University of Pennsylvania, Philadelphia, PA
Knee Fellow, 1998-1999
Musculoskeletal Medicine Fellow, 1997-1998
Current Academic/Administrative Appointments
University of Pennsylvania School of Medicine,
Clinical Assistant Professor of Orthopaedic Surgery in the Associated Faculty of the School of Medicine Clinical Associate Orthopaedic Surgery
Attending Staff, Pennsylvania Hospital
Professional Memberships
American Academy of Orthopaedic Surgeons
Pennsylvania Orthopaedic Society
Philadelphia Orthopaedic Society
American Association of Hip and Knee Surgeons
Leave a response