Michael A. Palmer, M.D.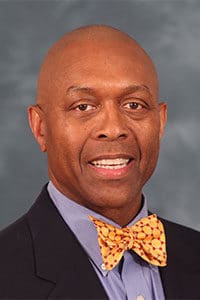 Dr. Palmer completed his bachelors degree in a combined program at MIT/Norwich University, graduating with honors. He majored in Education in Sciences with a concentration in Biology, Chemistry and Physics. He was a recipient of an Air Force ROTC scholarship during his undergraduate training.
Dr. Palmer obtained a Masters degree in Italian language and literature at the University of Perugia in the region of Umbria and played professional basketball on the Island of Sardinia and Rome. While living in Italy, he later enrolled in the University of Rome School of Medicine and Dentistry where he completed his medical education, graduating with honors and serving four years as an intern and resident in traumatology and orthopaedics. Upon his return to the United States Dr. Palmer joined the Air Force Reserve and completed training to become a flight surgeon at Brooks Air Force Base.
Dr. Palmer completed a residency in internal medicine at New York Infirmary Beekman Hospital/New York University in 1991 where he was appointed Chief Medical Resident in his third year. He then embarked on a second residency in physical medicine and rehabilitation, which he completed in 1994 at the University of Pennsylvania School of Medicine. He completed a Sports & Spine Medicine fellowship at Beth Israel Medical Center in New York where he was a clinical instructor of rehabilitation medicine and involved in the development of many protocols for postoperative rehabilitation for anterior cruciate ligament, meniscal injuries, total knee replacement and patellofemoral pain syndrome. He was also involved in the treatment of many college athletes and professional athletes from the New York Knicks and New York Rangers.
Dr. Palmer is on staff at the Medical Center at Princeton where he performs spinal cord intraoperative neurophysiology and rehabilitation medicine consultations. He is a graduate of the UCLA School of Medicine, School of Acupuncture Medicine. Dr. Palmer has a special interest in sports medicine rehabilitation, myofascial pain syndromes, fibromyalgia, Non operative spine care, electrodiagnostic neurophysiology including EMG's and intraoperative somatosensory evoked potentials, selective lumbar and cervical injections, and Alternative Medicine for the treatment of Chronic Myofascial pain syndromes. Dr. Palmer also performs disability and Independent Medical Examinations. He is board certified by the American Academy of Pain Management, the American Board of Independent Medical Examiners and the American Board of Disability Analysts.
Testimonial

"Dr. Michael Palmer provided me with excellent medical care and gave me sage advice that still resonates with me today: Take the time to care for your back and body. It is like a bank. Put a nickel in and get a dime out. With his direction, I underwent PT and then segued into working with a trainer. This care eliminated years of back pain, and I am happy to say that I am now pain free for two years. …" read more