Helpful Links
American Academy of Orthopaedic Surgeons
The latest source for Legislation, educational, health care policy and research information that pertains to the practice of Orthopaedics medicine.
---
The University Medical Center of Princeton at Plainsboro
Princeton HealthCare System is proud to be among the most comprehensive healthcare systems in New Jersey. Our full continuum of care includes acute care hospital services, behavioral healthcare, acute rehabilitation, skilled nursing, home care, hospice care, ambulatory surgery, and fitness and wellness services.
---
Capital Health
Capital Health is the region's leader in advanced medicine, with significant investments in advanced technologies and the area's most experienced physicians. Capital Health is comprised of two hospitals Capital Health Regional Medical Center in Trenton and Capital Health Medical Center – Hopewell
---
American Orthopaedic Society for Sports Medicine
The American Orthopaedic Society for Sports Medicine (AOSSM) promotes sports medicine education, research, communication, and fellowship and includes national and international orthopaedic sports medicine leaders. The Society works closely with many other sports medicine specialists, including athletic trainers, physical therapists, family physicians, and others to improve the identification, prevention, treatment, and rehabilitation of sports injuries.
---
Arthroscopy Association of North America
The Arthroscopy Association of North America (AANA) is an Accredited Council for Continuing Medical Education approved organization which exists to promote, encourage, support and foster through continuing medical education functions, the development and dissemination of knowledge in the discipline of arthroscopic surgery. This is done to improve on the diagnosis and treatment of diseases and injuries of the musculo-skeletal system.
---
American Association of Hip and Knee Surgeons
Established in 1991, the mission of the American Association of Hip and Knee Surgeons (AAHKS) is to provide leadership in education, advocacy and research to achieve excellence in hip and knee patient care.
---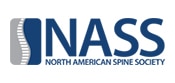 ---
North American Spine Society
A Non-profit medical society focused on improving spine medicine through advocacy, research and education. Includes patient information on spine disorders.
---
American Society for Surgery of the Hand
The American Society for Surgery of the Hand (ASSH) was founded in 1946 to facilitate the exchange of information related to problems of the hand. It is the oldest and largest medical specialty society in the United States devoted to the care of the hand.
---
American Orthopaedic Foot and Ankle Society
The American Orthopaedic Foot & Ankle Society (AOFAS) is an organization of 2,100 orthopaedic surgeons from the US and abroad who specialize in the medical and surgical treatment of injuries, diseases, and other conditions of the foot and ankle.
---