Aquatherapy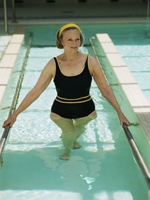 Aqua therapy is a form of physical rehabilitation that uses the properties of water to help promote healing of several different orthopaedic conditions.  Many patients choose to undergo this form of therapy when seeking relief from arthritis, back pain and injuries.
Aqua therapy offers patients many benefits over traditional physical therapy exercises.  The natural buoyancy of the water helps support patients while they perform their exercises, so that the amount of stress placed on the affected joint can be controlled during the early stages of treatment.  Water provides a natural resistance to help with muscle strengthening exercises without the need for weights, while the warm temperature helps relax muscles and increase blood flow to the injured area.
In addition to treating targeted injuries and conditions, aqua therapy can also help improve flexibility and range of motion.  Patients should undergo this therapy at least twice a week in order to achieve effective results.
It is important to note that aqua therapy is not for all patients.  Those with cardiac disease, infections or incontinence should not undergo this form of rehabilitation.  Your doctor will decide whether or not these exercises are right for you after a thorough evaluation of your condition.
To learn more about our
Aquatherapy Services
, please
contact us
today to schedule an appointment!