Outpatient Surgical Facilities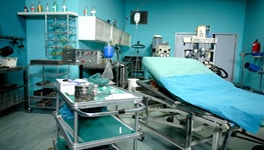 Our outpatient surgical facility provides a state-of-the-art, convenient location for most of our procedures to be performed, when not requiring an overnight hospital stay.  As minimally invasive techniques are becoming more and more common, most surgeries require only a short recovery period before patients can return home.  The comprehensive surgery center is equipped with the latest surgical technology to ensure that our patients receive the highest quality of care for their orthopaedic conditions.
These facilities eliminate the hassle and cost of hospitalization and allow patients to undergo their surgery and return home after a short recovery period.  Our facility features comprehensive operating rooms and a resourceful recovery area, where patients can spend their first few hours after surgery before being driven home by a friend or family member.  All surgeries in our outpatient surgical facility are performed by one of our experienced, certified doctors, and patients are tended to by our caring staff.
To learn more about our
Outpatient Surgical Facilities
, please
contact us
today to schedule an appointment!