Shoulder Hemiarthroplasty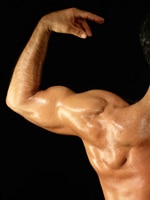 Hemiarthroplasty is a surgical procedure that replaces one half of the shoulder joint. The humeral head is replaced with a prosthesis and the glenoid (socket) is left intact. This procedure is most commonly performed for severe fractures of the humeral head as well as a condition called avascular necrosis where the humeral head bone is compromised secondary to poor blood flow.
Surgery is considered for cases of avascular necrosis when traditional conservative treatments such as injections and physical therapy have failed.
Recovery from Shoulder Hemiarthroplasty
The surgery typically takes 1-2 hours with an overnight hospital stay. Patients remain in a sling from 3-5 weeks and perform several months of physical therapy to regain their motion and strength.
Risks of Shoulder Hemiarthroplasty
Although this procedure is effective in relieving pain and other symptoms for most patients, there are certain risks and complications associated with any type of surgery. Some of the complications associated with hemiarthroplasty include shoulder stiffness, instability, infection and nerve damage.
To learn more about our
Shoulder Hemiarthroplasty Services
, please
contact us
today to schedule an appointment!