Carpal Tunnel Release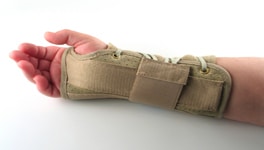 Carpal tunnel release is an outpatient procedure performed to relieve pressure on the median nerve and reduce the symptoms of carpal tunnel syndrome. This procedure can help restore muscle strength and dexterity, and is typically performed on patients who have had persistent symptoms that do not respond to conservative treatment methods.
Carpal tunnel release is performed through an open procedure. Open carpal tunnel release involves a two inch incision in the middle of the palm and gives the surgeon a better view of the treated area with less risk of accidentally damaging nerve tissue.
What to Expect After Carpal Tunnel Surgery
Patients can return home the same day, but may need prescription pain medication at first to manage the pain from the procedure. The hand may be kept in a splint for the first few weeks after surgery in order to protect the wrist while it heals. Although patients may continue to experience carpal tunnel symptoms after this procedure, most report that symptoms are significantly reduced after carpal tunnel release.
To learn more about our
Carpal Tunnel Release Services
, please
contact us
today to schedule an appointment!