Stacey A. Miller-Smith, M.D.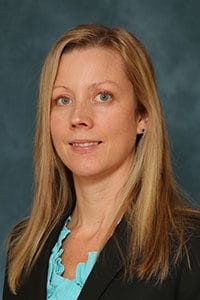 Dr. Stacey Miller-Smith received her Bachelor of Arts from Johns Hopkins University in 1999. In 2004, she was awarded her Doctorate of Medicine from UMDNJ-New Jersey Medical School. She completed her residency training in Physical Medicine and Rehabilitation at Kessler Institute for Rehabilitation/New Jersey Medical School in June of 2008.
Dr. Miller-Smith has authored several scientific articles and presented at national conferences. She has volunteered her medical services at numerous athletic events, including the World Championship Ironman in Hawaii and the Special Olympics of New Jersey. Currently she is a member of the New Jersey Society of Physical Medicine and Rehabilitation, the American Academy of Physical Medicine and Rehabilitation, and the American College of Sports Medicine.
Dr. Miller-Smith is on staff at Princeton Medical Center where she performs rehabilitation medicine and orthopaedic consults. Dr. Miller-Smith's areas of interest include sports medicine, comprehensive women's sports medicine, myofascial pain syndromes and arthritis. She performs all joint injections and trigger point/myofascial injections.
She was featured on Ben FM (a Philadelphia radio station) as "Woman of the Week" on 1/17/12.
Testimonial

"Dr. Stacey Miller-Smith helped me get through a lot of pain. If it weren't for her, I would not be able to move without pain. She is excellent at really listening when examining you and she will go above-and-beyond to help. Additionally, she referred me to the right specialists to help with imbalance and dizziness issues. She is well-respected and well-liked by other doctors. She is absolutely amazing!…" read more
Leave a response